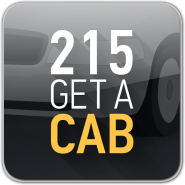 215-Get-A-Cab is Philadelphia's premier taxicab dispatch company, offering the city's largest fleet of technologically advanced taxicabs. We offer fast, friendly and reliable taxi dispatch services. Whether you need a cab now or want to book in advance, 215-Get-A-Cab helps you get to your destination quickly and easily!
We serve customers throughout the city and offer wheelchair accessible vehicles as well as sedans, SUVs and minivans.
No credit card is required and never any cancellation fees or surge pricing!
To order a cab now, get the app or call 215-GET-A-CAB